Swimwear fashion is a distinct set of fashion that combines athletic and fitness fashion, outdoor and landscape photography, and of course, fashion. Although it falls in the "fashion" category, may swimwear or bikini shots are not used to see clothes, but may be used to showcase the fitness of the model, or the sexiness of the model in a swimsuit. Knowing the goals and purpose of the shoot is critical in order to create the prefect photoshoot themes. Whether the shots are for a model's portfolio, a pinup calendar or poster, or to showcase the fashion designer's design, the key to a good swimwear fashion shoot is the location.
At North River Photography, we utilize a wonderful array of waterfalls, beach fronts, and other locals to capture the prefect shooting location.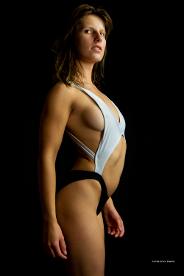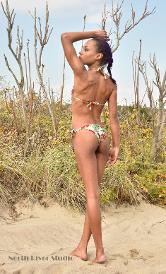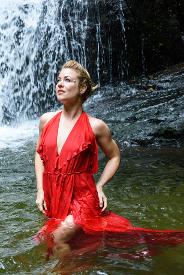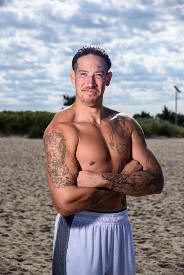 Hudson Valley Locations
Choosing the location for your shoot is important for the overall composition of your session. The natural "bikini photoshoot" studio is a large sunny beach, but there are many options you should consider available in the Hudson Valley to cater to your personal swimwear fashion photoshoot.
City - New York City and the surrounding areas have wonderful beaches for your perfect beach photoshoot. For an incredibly unique shoot, we can create wonderful beach shoot across from Manhattan so that the City appears to arise out of the ocean. Most of these locations are private, so we can help you with your perfect swimwear shoot, even if the suit you wear is less than full coverage. Of course, there are other ways to create a nice City beach shoot without going to NYC. The Hudson River Valley is home to many "river towns" which have great beaches along the river (including Peekskill). By using the town's backdrop, you can create a unique City beach shot without having to go to NYC.
River - There are numerous rivers and creeks in the Hudson Valley that make the perfect backdrop to your desired swimwear shoot. There are also many hidden and private waterfalls that allow us to conduct your shoot without interruption. Of course, the Hudson River has many places for creating a unique swimwear shoot, including desolate beaches, islands, and rocky promenades. The beauty of the Hudson River is that it also offers wonderful bridges that you can use for an interesting twist on an otherwise typical swimwear photoshoot. For sunbathing photo shoots (shoots in your "birthday" suit), we can also arrange for a shoot along (and in) a beautiful small river with waterfalls at a designated nudist area. See our Nude section for more details.
Lakes - There are also numerous lakes in the Hudson Valley that have beautiful beaches. Most of these are open year-round, so you can create that perfect swimwear fashion beach shot anytime of the year. The beauty of shooting a fashion shoot at a lake in the Hudson Valley, is the diversity of the lakes. You can shoot at the lake beachfront, and within a few minutes, have a great nature or outdoor shoot in the woods.
Ocean - Of course, the ocean or Long Island Sound makes a great backdrop for a swimwear fashion shoot. The unending horizon of water along a large sunny beach is the quintessential beach fashion shoot location, and the first picture in our minds when we think of a swimwear photoshoot. Long Island, Connecticut, and New Jersey has some great "big beach" locations for a shoot. Many of the locations we use also have wonderful piers, jettys, marshlands, and woods so that we can turn your beach shoot into a multiple purpose shoot with little ease.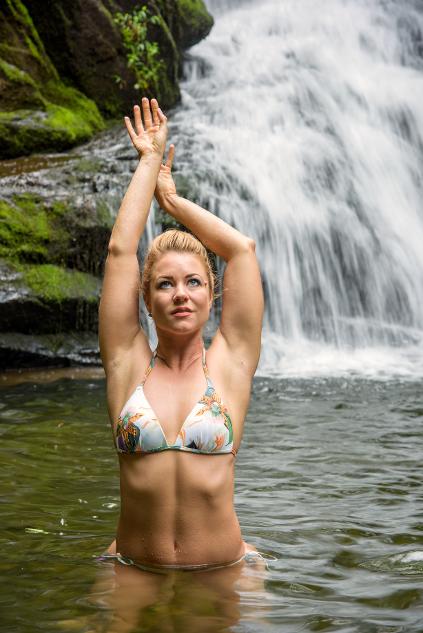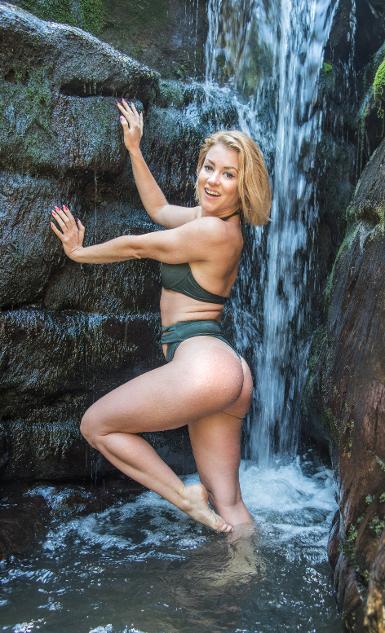 Swimwear Fashion Themes
A swimwear fashion shoot is never a straightforward as it first appears. Swimwear fashion shoots have their own subset of themes, depending on the goal of the fashion shoot, and the type of photographs desired. For example, a swimwear fashion shoot for a product catalog looks a lot different then a swimwear fashion shoot for magazine advertisements or posters. For designers who focus more on athletic wear, the fashion shoot will have a more active and athletic look, than for a designer of more glamorous swimwear. Other designers may lean more toward the "pin up" look, whereas other swimwear are designed for comfort and practicality.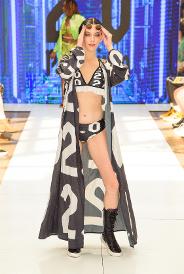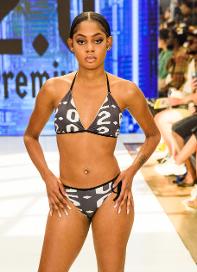 Glamour Swimwear Fashion - A glamour swimwear fashion shoot may have more "accessories" like designer bags, sunglasses, and props to set the mood of a relaxed day at the beach. The themes would involve establishing a relaxed unrushed feeling when viewing the photographs, as if the model does not have a care in the world.
Body Swimwear Fashion - A "body" swimwear photoshoot emphasizes the look and feel of the bikini or swimming suit on the model's body. These are often used for both male and female models. For women, designers tend to emphasize how the swimwear sculpts the body, or covers the body, and provides both a comfortable and faltering profile. The swimwear photoshoot may even focus on bathing suit beach cover ups or other wraps designed for wearing at the beach. For men, designers tend to emphasize the versatility of the bathing suit, the cut of the suit, and how it can be used in non-beach settings.
Athletic Swimwear - Athletic bathing suit photoshoots emphasize the flexibility and durability of the swimwear as it is used by athletes. Whether its water polo, beach volley ball, or swimming, the theme of an athletic swimwear photoshoot is to showcase the swimsuit in a sporting environment. These photo sessions often involve fast action movement and athletic props. The locations for athletic fashion photoshoots are not limited to beaches, and are often shoot in pools (especially ones with diving boards), parks, and locker rooms. As the line between swimwear and athletic wear continues to overlap, and the distinction continue to fade, more and more swimwear fashions are mimicking the style and versatility of athletic wear. Similarly, the lines between swimwear and athletic wear photoshoots are also becoming less defined.
Pin up Swimwear - A pin up bikini fashion shoot is exactly what it sounds like. The theme of the fashion shoot is to showcase the beauty and sexiness of the model wearing the bathing suit. The pin up shoot is used for both men and women, and can be either a bikini or speedo type bathing suit. The prevailing theme for a pin up swimwear shoot for both is less is more. The focus is ostensibly on the model; however, by showcasing the beauty of the model in the bathing suit, the designer can achieve the product placement typical desired in the pin up fashion shoot. Pin up bikini fashion shoots are popular where the model is well know or has a loyal following. Of course, they are also used when the fashion is a mere afterthought, and the photograph is used to promote the model, sell calendars, or sell anything from life insurance to beer. Regardless of the end goal of the pin up photoshoot, the theme is the same: have the model look great in skimpy swimwear.
Casual Beachwear - More and more, designers want to showcase their swimwear designs with more formal portraits or photographs of the model in the swimwear. This is particular true as swimwear becomes more versatile and is worn outside the beach or pool. Beaches used to be filled with changing rooms, where people would change out of their clothes and into their swimming suits when they arrived at the beach. They'd change back into their clothes before they left the beach to go home. Those days are gone. Nowadays, people may use wraps and other garment to cover their swimsuits, but the swimsuits get worn off the beach. Fashion designers have embraced the expanding roll of swimwear, and want to showcase the versatility of their beachwear. This is particular evident in men's beachwear, where the bathing suits have come to look more like regular shorts that you can wear to the gym or golf course. These casual wear bathing suit shoots can be taken at a beach bar or restaurant, on a boat, or a promenade or boardwalk along a waterfront. The casual beachwear photoshoot becomes closer to a regular outdoor fashion shoot, as the emphasis is taken away from the beach.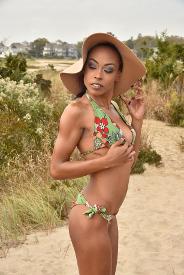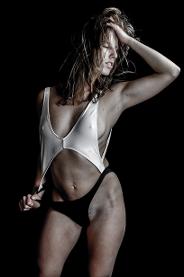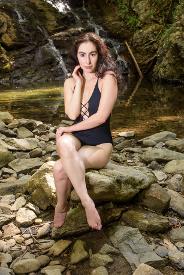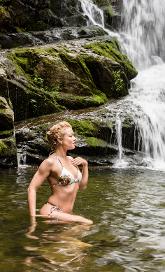 Swimwear Posing Tips and Tricks
Not everyone feels comfortable and confident posing on a beach in swimwear. Even some professional models will share their anxiety about posing in swimwear. There are many great tips and tricks, however, to make sure you look fabulous. We will help you pose to bring out your beauty and make you look great whether you're in a bikini, speedo, or nothing at all. Looking great is all about confidence. And if you don't have confidence straight away, that's ok, because you will when you see the results of the poses we will walk you through. Although not an exhaustive list by an means, a few pointers are provided:
Be natural with your scenery. If you're on a beautiful beach: smile, relax, enjoy yourself.
Be confident. You look beautiful or handsome. This is the time to soak up the sun. Start slow and simple. Our photographer know how to capture the perfect angles to highlight your beauty, and we will walk you through various twists and turns so that your photographs come out wonderful. Start off with a confident stride toward the camera. Stepping forward is a "power" move that exudes confidence and also slims the legs and accentuates the hip curves.
Toss something playfully. It could be sand, a towel, clothes, sunglasses, or a beach ball. Playful activities are a perfect match for a day at the beach, and the fun and stress free vibe will translate into great photos and a more relaxed shoot.
Arms up for the hourglass figure. Beach wear tends to highlight the model's figure (male or female) on a level equaled only by lingerie. Use that to your advantage by showcasing your figure. Bringing the arms up to the hair adds a curve to your shoulders. It also prevents your arms from making a straight line down your waist (and turning your waist into a square box instead of an hourglass). It's also a natural look, as you can move the hair out of your eyes, adjust your sunglasses, or shield your eyes from the sun.
Cross your legs. Same with the arms, crossed legs add an extra curve to your legs and turns an hourglass figure into a two-hour glass figure.
Cross your arms. Although more typically used for men, the crossed arms pose adds an intriguing look for women as well. This is particular true with a bikini top, as it provides more coverage than the bikini and can enhance the curves of the chest.
Arch your back. When laying on the beach, most people lie down flat on their back. By arching your back just a bit, you can accentuate your curves without looking unnatural. This works well when shot from the side, as it provides a space between the sand (or beach towel) and your lower back, such that you and the ground and both clearly well defined.
Stretch your shoulders. To elongate your rib cage, and allow some ribs to peak through, stretch your arms and shoulders above your head and lean slightly back. Don't try and "suck in" your stomach, as that makes for an obvious and unattractive look. Instead, simply elongate your torso by stretching, and you'll be able to tone down your midsection and make your stomach look more taunt.
Walk away and look back. Walking provides natural movement which eliminates the "posed" look. They way your shoulders and hips naturally look cannot be faked when you are walking. By walking away from the camera and looking back, you can capture a beautiful and natural photograph with little effort.
Peek from the side. A traditional and popular bikini or beachwear shot is from the side, with the model holding her forward facing hand to his or her head, while looking through the triangle created by the arm toward the camera. It's a "peek-a-boo" shot, this is actually a shot within a shot. The benefits of this shot is two-fold. First, it provides a framing of the face, which draws attention to the model's face and eyes. Second, it shows the side curves of the model, and adds an additional curve with the elbow of the forward hand. Using directional light, the photographer can create contrast in the face using the shadows created by the arm.
For additional posing tips and tricks, please visit our general tips and tricks section.
Beach Photoshoot Camera Tips and Tricks
Everyone wants to capture those beautiful photographs while enjoying a day on a sunny beach. A few tips and tricks can make your bikini or beach photos even better.
Capture the scenery. This cannot be emphasized enough. There is no point in scouting a location, finding the perfect spot, and then only taking closeups of the model or client. The background is just as important in conveying the photographs message in a beach shoot as the suit design and the model.
Using a high power strobe with High Speed Sync lets you reduce the ambient light by using an ultra fast shutter speed. By reducing the ambient light, you can use directional light from the strobe or flashes for that perfect lighting setup.
Using reflectors to redirect overhead sunlight to more directional focus allows you to create or enhance contract on the face, or to add a hair light (or rim light) to the model's hair.
Be sure to shoot any water scenes after you've taken all your beach shots. Once you're in the water, it's much harder to shoot "dry" beach shoots. This is particularly true if the model or client has product in is or her hair, or are wearing makeup.
Using an oil based sunscreen provides a great "wet" look, that also emphasizes the client's muscles. Similar to how photographers or bodybuilders use baby oil or coconut oil to create a light "sweat" for athletic photos, a oil based sunscreen provides that enhanced muscular element to any bikini or bathing suit shoot.
Preparing for a bikini or swimwear photo shoot
For a bathing suit photoshoot, its important to discuss the themes you hope to achieve ahead of time. Your photographer can direct you to the right location to fulfill all your themes. Be sure to bring a variety of suits so you can capture a number of different styles. At North River Photography, we have a portable changing room to allow the private quick change of clothes at any outdoor location. Equally as important, however, is to determine which props you should bring. Plan as if you are going for an afternoon at the beach, and you'll have a good understanding of the things you should have (beach blanket, towel, sunglasses, umbrella, beach ball, bag, wraps, etc.). We can provide most of the necessary props for you. Be sure to bring accessories that match your swimwear. A nice beaded necklace, a colorful hat, or an interesting wrap is a great way to add a uniqueness to your photographs. Weather is always unpredictable; however, even a cloudy day with little direct sunlight can produce fabulous photos. Using an area of lights, flashes, and strobes, we can create almost any atmosphere for your shoot.