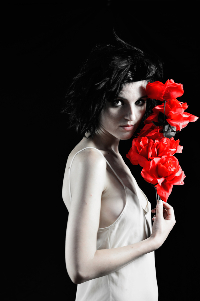 Photography is a passion. Composition, style, and lighting is but a part of what makes a great photograph. Working with models in close collaboration is what brings photographs to life and makes the time and effort worthwhile.
Your photographs should be as original as you, and reflect your personality, essence, and spirit. Enduring photographs stand the test of time because they are beautiful, enticing, or interesting. It is the difference between a "picture" and a photograph.
Why Nude or Boudoir Photography?
We perform many types of photo sessions, from high-end fashion, special events, family keepsakes, and portfolios. And while each session will create beautiful photographs, the benefits of nude photography is that it is about YOU. Nude and semi-nude photography concentrates on a model's appearance and presentation rather than the clothes the model may or may not be wearing. It is about creating provocative images, with attitude, eroticism, mood, and sometimes nothing more than a particular look in a model's eyes. Glamour nude and semi-nude photographs are timeless - they will never look "out of style," and their beauty will endure 30, 40, or even 50 years from today.
There are no height, weight, or age restrictions (except over 18). All those ever-changing rules and styles that are associated with the world of fashion simply do not apply. You do not need to spend money on high-priced trendy clothes that will be passé in a few years. In a sense, it is perhaps the most democratic form of modeling in the industry that exists -- everyone can create beautiful artistic photographs.
Moreover, when freed from the constraints of traditional standard portraits, you open up a world of possibilities for creative artistic photographs. You are unique - your photographs should be too!
What to Expect?
If you have never posed in a professional photo shoot, it may initially seem daunting. The photographic themes are discussed and agreed to beforehand so that we can ensure your expectations are met and we can bring your artistic vision to life. The level of nudity revealed for the photo shoot is dictated by your vision and comfort level. You, of course, are invited to bring your spouse, partner, friend, high-priced lawyer, etc. to all photography sessions.
To further explore creating beautiful unique photographs, please contact us at North River Photography to arrange for a free consultation to discuss your photographic desires.